We got a few things done on the R last week. While we were working we were able to take some comparison photos. Our next track day is scheduled for the last Friday in August, so we should have some solid feedback from the first two rounds of modifications compiled at that point. The car was stock as far as performance was concerned with one exception. A K&N drop in filter. We flashed the car with APR stage 1 software halfway through the first track day hoping to compare lap times but it was hard to get a clean full lap in. So to keep track of things, the first round of mods were primarily for safety:
A photo of the car just before work started:
Mod #1) Nitto NT01 255-40-17 tires on TR Motorsport wheels. The stock wheel and tire weighed in at 48 lbs. on our scales. The TR Motorsport wheel was a 17x 8 and weighed 17.5 lbs. The TR wheels and Nitto tires were 44. So we gained 30mm in width and were still able to drop 4 lbs at each corner, so far so good. The NT01 is clearly a heavy tire but it's proven to have a long life span and wear evenly for us in the past. Almost forgot, stock tires were Pirelli, not Dunlop and were weighed less than 1,000 miles into their life. The Nitto tires were weighed before use.
Here is a picture of the NT01′s from a rear view:
255′s NT01′s next to 225 Falken Azenis:
Mod #2) The P3 gauge. This Golf R belongs to our web developer and his MK4 Jetta track car was full of gauges. We tried to make the wiring as clean as possible, but there was still a lot going on. He wanted a cleaner solution for this car as it will be doing daily duty in addition to the track days. The P3 integrates very well with the interior and the installation was easy. So far so good with this one. We chose to use a boost tap and analog sensor for the boost input instead of relying on the DLC for this reading. The APR boost tap fit perfectly like they always do. Running a cleanly routed hose through the firewall grommet did require battery removal, but the whole job only took about 30 minutes. It's nice to be able to read boost, coolant temperature, intake air temperature, EGT, throttle %, and battery voltage all from the same gauge. It has other features that are great like peak value recording and some that we won't use like the shift light. It's also nice to have the fault clearing function.
APR Boost tap: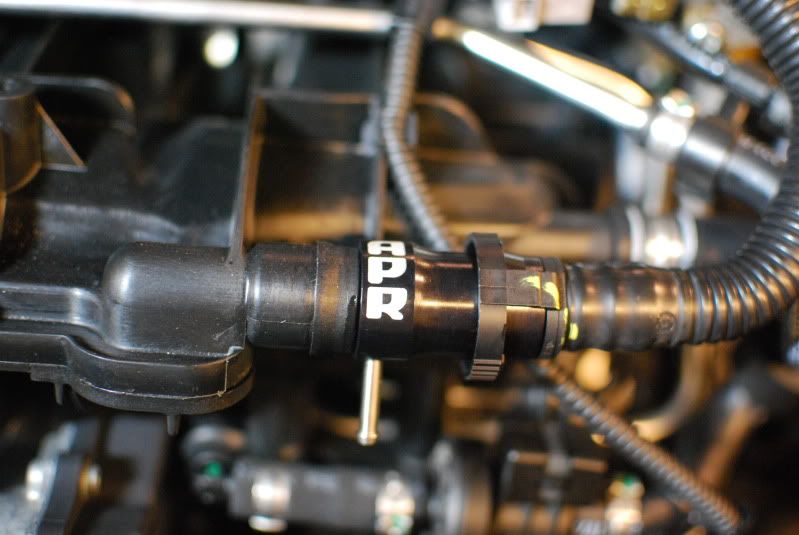 Shot of the P3 being installed:
We chose to take the knee panel out to secure the control unit for the P3, this doesn't need to be done for the install but it helps if you are really trying to secure everything for a car that will see a lot of lateral acceleration.
Installed: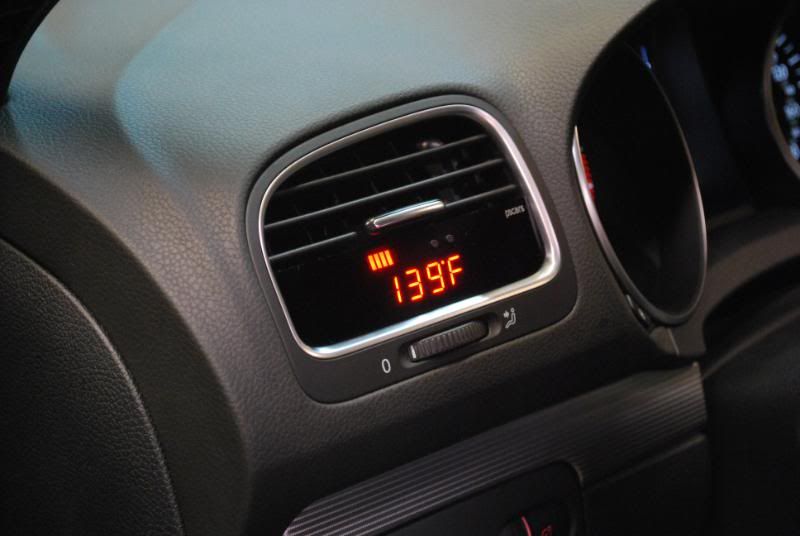 Mod #3) Stoptech Stainless lines and Motul 660 fluid. We've been installing a lot of stainless lines around here recently. None of them fit as well as the Stoptech lines. They fit perfectly in the factory mounting points and have DOT tags right on the outside fitting. This is important for people in states like PA where they have mechanical inspections and fail you if your lines don't actually have DOT tags on them. We have had a few cars in here lately with "Precise Lines" branded parts that have failed. I wish I would have taken pictures of those, what a bunch of junk. We trust Stoptech and you should trust the company making your brake lines so you don't have to do this 
 at the end of a straight section of a road course. I've been really impressed with Motul 660 fluid. We saw astronomical temperatures on our 2010 GTI as we went a little aggressive on our pad choices for the last track day. We were seeing rotor temps in excess of 900 degrees F after a cool down lap and never experienced any brake fade. Thumbs up to that fluid. ATE blue fluid hasn't been cutting the mustard lately, cars keep getting heavier and faster and the boiling points just aren't high enough. For reference:
Dry Boiling Points in degrees Fahrenheit :
VW DOT 4 fluid
509 F
Pentosin Super DOT 4
509 F
ATE Type 200
536 F
ATE Super Blue
536 F
Motul DOT 5.1
522 F
Motul RBF 600
594 F
Motul RBF 660
617 F
Mod #4) Carbotech Pads. We followed Carbotechs recommendations for the Golf R and used XP20 pads in the front and XP10 in the rear. We were very happy with the feel these provided. No issues at all and the braking felt very balanced. Initially we were concerned that the rear pad compound was too aggressive and that the car would try to rotate under heavy braking. We were prepared to go back to the stock rear compound if need be but they ended up operating perfectly!
The front pads fit a number of different cars, so the second bracket had to be removed to work on the Golf R. Nothing a good drill bit and 60 seconds of our time couldn't resolve!
Most track pads do not come with wear sensors, they have a tendency to melt at high temps. We didn't want to code this out with VCDS as the stock pads went right back on with fresh rotors after the event. This kept the light off for us:
If you haven't seen your stock front calipers yet, here they are. Seems like the over-sized single piston is becoming popular between VW, Audi, and BMW. No complaints so far other than the fact that the retaining clips on the outside are a little frustrating if you were to have to change pads while at the track. We knew the front rotors would be heavy, but I think we were all a little surprised to find out the came in at 26.9 lbs each. We didn't have a chance to weigh the calipers, but they aren't feather weights.
Here are a couple photos to give you an idea of the caliper clearance with the TR 17×8:
It's time for our afternoon meeting now, so I'll come back to this thread tomorrow with better updates and more pictures! Until then, here is a video of a lap from the Golf R behind our GTI: